If Obama is this insane, Lisa is the last baby we will ever need to worry about . China will not stand for this.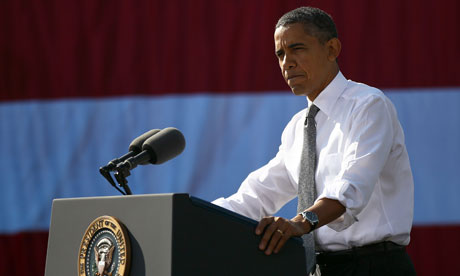 War with
Iran
is the last thing
Barack Obama
needs with the American economy in dire trouble and a tough White House election campaign looming next year, according to officials in Washington as well as political analysts.
But while the Obama administration is desperate to avoid another conflict – it would be America's fourth in a decade – the drumbeat from
Israe

l
has been growing louder.
The Israeli cabinet was reported on Wednesday to be debating whether to launch air strikes on Iranian nuclear sites in the coming weeks. The prime minister, Binyamin Netanyahu, and the defence minister, Ehud Barak, are lobbying in favour of action, but other senior ministers are urging caution.
In response, Iran has warned, as it has in the past, that any attack by Israel would result in retaliation against the US. The Iranian news agency ISNA quoted Hassan Firouzabadi, Iran's military chief, as saying: "The Zionist regime's military attack against Iran will inflict heavy damages to the US as well as the Zionist regime."
The rhetoric from Tel Aviv and Tehran is making some within the Obama administration nervous.
A Washington official familiar with the issue acknowledged the temperature has been rising and that Israel introduced an unpredictable element. He reiterated, however, that the policy of the Obama administration was to pursue all diplomatic channels, backed by tougher sanctions, and avoid military action.
"I do not think the US has the stomach for it," Sam Gardiner, a retired air force colonel who taught strategy at the National War College and who has specialised in carrying out war games targeting Iran, said. But if Israel went ahead, it would be difficult for the US to stay out. "The US would have to be involved and finish it," he said...
read more
http://www.guardian.co.uk/world/2011/nov/02/us-heading-war-iran-obama