Picked this up from Hinky Meter, many thanks for the image...discussion.. they may be looking for a body in a cement block ! Dear God...
SweetT wrote:What are those black things they keep carrying back and forth? Are they like xray bags or something?
..i think so--portable X-ray trays, they check them in the truck, then back into the house with another one..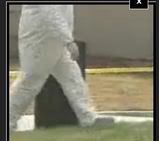 http://www.thehinkymeter.com/phpbb/viewtopic.php?f=60&t=1384&start=400
http://shadplay.blogspot.com/2011/10/lisairwin-search-warrent-second-lawyer.html
http://www.nbcactionnews.com/generic/news/Lisa-Irwin-AMBER-Alert#ixzz1bFnzdtfZ