Alzheimer's patient missing since Wednesday
Ferguson, MO (KSDK) - Police are looking for an Alzheimer's patient that has been missing since
Wednesday, October 19.
Cleo Jones, 73,-----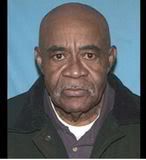 --- was last seen leaving his home in the 1100 block of Ford in Ferguson, Missouri around 10:30 p.m.

He was born in Mississippi and had talked about going to Kansas City, MO.

Anyone with information regarding the whereabouts of Jones should call 911, contact the nearest law enforcement agency, or call the Ferguson Police Department at 314-522-3100.