http://www.guardian.co.uk/books/2011/jan/05/amazon-ebook-manipulate-kindle-rankings
Amazon withdraws ebook explaining how to manipulate its sales rankings
Ebook claiming one can become a Kindle 'bestseller' simply by posting fake reviews temporarily removed from bookseller's listings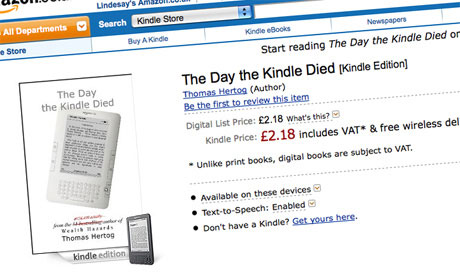 The author of an ebook that gives details on how easily Amazon's bestseller rankings can be manipulated has accused the online retail giant of "hypocrisy" after the title was temporarily removed from the website over the new year.
In
The Day the Kindle Died
, Thomas Hertog claims it is possible to get your own book to the number one bestseller spot in its category on Amazon simply by posting fake reviews, voting on them favourably and downloading copies of the
Kindle
ebook yourself.
Hertog claimed he managed to do just this with his own 2009 personal finance book
Wealth Hazards
, pushing it above books by established bestselling authors including Robert Kiyosaki and Donald Trump, despite having actually sold a mere 32 copies to third parties.
The author said it took him "about 45 days" to get the book to the number one spot in personal finance. "Not once was a review or vote rejected by Amazon," he wrote.
Hertog concluded that Amazon's bestseller rankings are "inaccurate", "contrived" and "misleading" to customers, saying his findings meant "the Kindle experience is dead".
Hertog published his exposé The Day the Kindle Died in December, but claims the title was taken down from Amazon's websites on New Year's Eve after
an article about the book appeared on technology site TechEye
. Wealth Hazards was also removed from the Amazon listings on New Year's Eve. Both books are now once again for sale on the site, but with their sales rankings and reviews now removed.
In a statement during the furore the retailer said: "Amazon believes it is censorship not to sell certain books simply because we or others believe their message is objectionable."
Hertog asked: "Does Amazon have a double standard? Do they fear the truth getting out? No one knows yet as they remain silent hoping their actions won't be noticed."
Amazon.com
declined to respond to requests for comment yesterday.